(Family Features) While spring cleaning can be crucial in keeping your home in tip-top shape, especially for DIYers who find inspiration in the bright season for new home decor projects, the annual ritual can also feel overwhelming.
To add color and whimsy, and make spring cleaning a more joyous event, consider these ideas from mom and designer Joy Cho, the founder and creative director of Oh Joy! – a lifestyle site focused on design, fashion, food and life's joyful moments.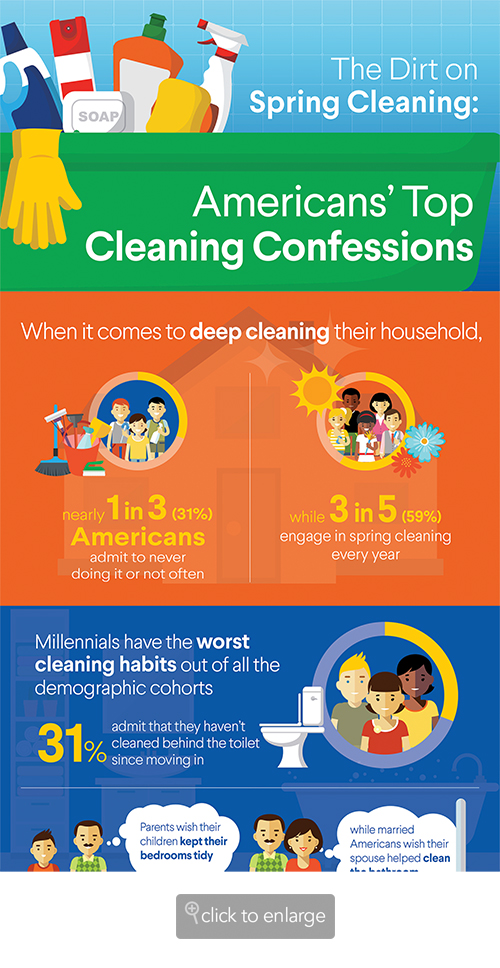 Frame homemade artwork. Once spring has arrived, you may have compiled lots of children's artwork from time spent indoors. To keep it all organized, sift through it in the spring and frame some of your children's hard work to put on the walls as colorful pieces of homemade decor.
Start with a fresh clean. Routinely cleaning your high-touch surfaces with disinfecting wipes and picking up common areas is a good habit to get into and should be a starting point for any spring project. When you start with a clean space, you know you won't have to deal with dust bunnies and clutter along the way. Plus, with nearly 1 in 3 Americans (31 percent) admitting to rarely or never deep cleaning their households, according to an online Clorox survey in February 2019, regularly freshening up can help you maintain a clean space and cut down on time spent tackling big messes.
Decorate with color. Make your shared spaces as fun and unique as possible by adding pops of color. After cleaning accumulated dirt and dust off your bookshelves, add contact paper to the inside back section of the shelves and flower vases or decorative jars for temporary color and character. You can also add an unexpected spring time pop to floral bouquets by incorporating fragrant mint sprigs or colorful stems. Picking out an attractive spring print that brings you joy and updating your throw pillow shams can also provide little bursts of color.
Repurpose everyday items. Look for items around the house that can serve a secondary purpose, like the limited-edition Oh Joy! Clorox Disinfecting Wipes Designer Collection, which can serve as statement pieces while setting the stage for a happy and healthy season by removing unwanted germs and dirt that may be lurking in your home. The stylish canisters can also be rinsed and reused after the last wipe is gone to hold everything from craft supplies to kids' toys or flowers.
"For the first-ever Clorox Designer Collection, I created four unique canister designs that are inspired by fresh blooms, spring sunshine and the feeling of a clean, new start," Cho said. "What I love most is that they make the canisters attractive enough that you no longer need to hide them under the sink. Leaving them on the counter for cleaning up messes throughout the day is not only convenient but adds a little joy to your spring decor as well."
Maintain your spaces. Spending a little time each day cleaning high-traffic spaces can be easier than devoting an entire day each week to getting your home back in order. Disinfecting wipes make it easy to clean up messes, wipe down surfaces and stay on top of spot cleaning, allowing you to spend less time worrying about dirt and germs and more time with your family.
Find more ways to elevate your space and add joy to spring cleaning at Clorox.com.
Photo courtesy of Lily Glass for Oh Joy!
Source: