(Family Features) One of the best parts of the holidays is being together with those you love, and for many families that time together involves the exchanging of gifts among loved ones young and old. Finding the right gift for everyone can be a challenge, especially if teenagers and young adults are on your shopping list.
It seems like social media feeds are constantly filled with a new tech item, style, pastime or trend, making it more challenging to pick out gifts for the young ones on gift lists. This year, consider some on-trend gift ideas – like Jelly Belly Jelly Beans – to show appreciation for the Gen-Zers in your life with presents and stocking stuffers that can win them over.
New in Tech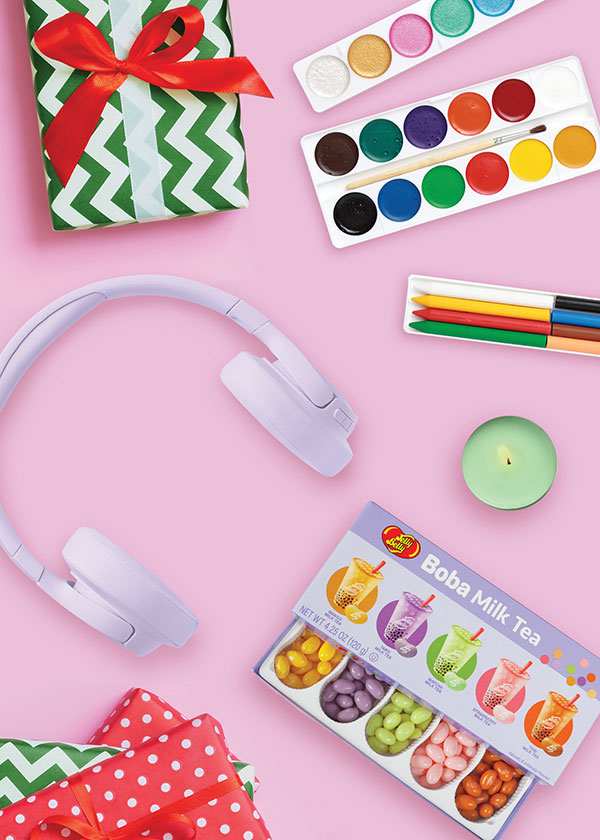 As one of the most popular categories of gifts for teens and one that's always evolving, deciding which devices and gadgets to gift can be hard. Consider your loved ones' hobbies and interests to make the job easier; for example, if they're music lovers or podcast fanatics, wireless earbuds or headphones are a perfect option. If social butterflies are on your shopping list, portable phone chargers and smartphone accessories like a pop-out phone grip can make sure they're one step ahead of their next photo or social post.
For Boba and Candy Lovers
Many Gen-Zers love a good cup of bubble tea or boba swag, so feed their cravings with an option like Jelly Belly Boba Milk Tea jelly beans. With gift boxes, snack bags and more, these delicious treats made for candy lovers provide a perfect balance of tea, tapioca and sweetness in five true-to-life milk tea flavors: Mango, Taro, Matcha, Strawberry and Thai Milk Tea jelly beans. Find these treats at JellyBelly.com where you can purchase online or locate a store near you.
Cozy Comforts
For teens heading to college or young adults venturing out on their own, consider gifting items to spruce up their new spaces. You can give them a helping hand to start their next chapter with fun decor items like throw pillows and blankets or add life to their new homes with stylish wall art or flower subscriptions. For simple reminders of home, consider candles with their favorite scents or aromatherapy diffusers and essential oils to add a touch of calm to the chaos of heading out on their own.
Play to Their Hobbies
Help them embrace their talents and favorite activities whether it's art, reading, cooking, gaming, playing sports or mastering instruments. New paint kits and supplies can help young Picasso's take their art to the next level while a new appliance or cookbook can provide an upgrade for avid home chefs.
The Gift of Music
Whether they have a favorite band or are up-and-coming musicians themselves (or both), give the gift of music with fun ways to enjoy their favorite songs. Record players and vinyl records are making a major comeback while portable speakers allow music lovers to take their favorite sounds wherever they go. A subscription to a streaming service can be perfect for casual listeners or, if you're looking to splurge, consider concert tickets.
Outdoor Adventures
From jogging around the neighborhood to exploring nearby parks and trails, outdoor enthusiasts can never have enough gear. Runners are always searching for the latest sneaker launch or fitness tracker to keep on pace with their goals while more casual enjoyers of the outdoors may love a new water bottle, picnic blanket or beach bag.
Photo courtesy of Getty Images (girl opening gift)
Source: Jelly Belly