(Family Features) Bats and helmets, sticks and pucks, a goal and a ball – whether your favorite sport takes place on a field or a pitch, the ice or the hardwood, true fans get a kick out of hosting their fellow supporters to watch the home team play. The next time the good guys or gals take on their fiercest rivals, turn your house into a full-blown suite for a watch party that's sure to bring home a win.
A little game planning goes a long way, which is why the entertaining experts at Newman's Own recommend these tips to throw a trophy-worthy watch party.
Send Invites Ahead of Time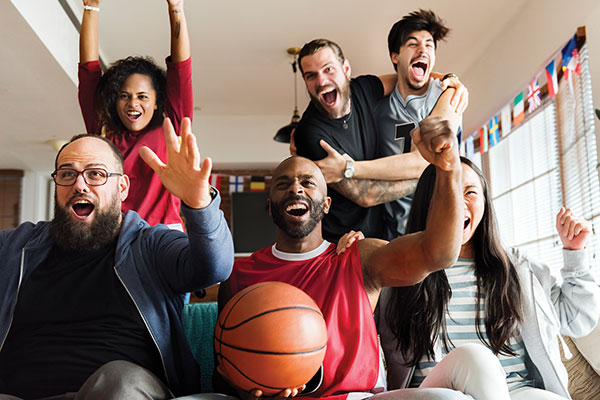 Most sporting events are scheduled well in advance, giving you plenty of time to plan for game day. While waiting until the last minute can lead to an overwhelmed host and underwhelming menu, sharing invitations in advance means guests can come prepared. Consider adding the time you'd like fellow fans to arrive as well as the first pitch, kickoff or tipoff time.
Opt for Easy Eats
Tensions are already running high with the stress of a rivalry game, so skip complications in the kitchen and turn to on-hand, easy-to-make game day grub. For example, pizza is a popular choice with multiple toppings available so there's something for everyone, regardless of who they're rooting for. Consider options like Newman's Own frozen pizzas, which deliver radically good flavor with 100% of profits going to help kids facing adversity.
With 16 pizza varieties, it's a slam dunk choice. A fan favorite, Thin & Crispy Crust Uncured Pepperoni Pizza is a tried-and-true staple you can enjoy with high-quality ingredients and no artificial flavors on a signature multigrain crust. Or for those who prefer a meatless variety, turn to Stone-Fired Crust Margherita Pizza for an authentic Italian bite with traditional tomato sauce, buffalo mozzarella cheese and basil leaves straight from Italy.
Test the TV
Whether you're a cable subscriber or cord cutter, ensure you'll have access to the right channel or streaming platform on game day. Test your setup for a good connection, proper picture quality and crisp sound so you can avoid technical difficulties when the game is on the line.
Add Championship-Level Decor
Show off your team's colors with decor that makes a statement. Weather-permitting, set the stage with an outdoor flag donning the logo or mascot so neighbors and visitors feel your team spirit. Wear your jersey with pride, show off meaningful memorabilia and set out team-themed plates and napkins.
Maximize Seating
Part of a positive game day experience is ensuring comfort for the crowd, meaning you'll want to maximize seating options without squeezing everyone in too tightly. Projecting attendance so you know exactly how much seating you'll need is key to keeping everyone comfortable. Avoid "standing room only" areas by bringing in added chairs or stools, or consider turning on an extra TV in a separate room for a little more space.
Keep Everyone Engaged
While it might be challenging for diehard fans to acknowledge, there may be some partygoers who are less inclined to tune in on every play. Make your gathering a fun experience for all, regardless of their interest level in the game, by setting up designated spaces for those who prefer socialization. If you're expecting kids to be in attendance, provide ways for them to stay entertained like board games in the basement or bats, balls and gloves outside.
Find more winning solutions for game day watch parties at newmansown.com/product.
Photo courtesy of Getty Images (sports fans)
Source: