(Family Features) Whether it's gas prices, airline costs, limited lodging options due to high demand or a multitude of other factors, it can get expensive to travel. Depending on the destination and length of your stay, planning a vacation can take months of saving and research on everything from activities to accommodations and more.
However, these tips can help you keep travel costs down and get the most enjoyment out of your trip.
Stick to a Budget
After accounting for your transportation and lodging – the largest portions of most trips – set spending limits for the rest of the trip, including food, activities and souvenirs. If you have a set budget, you'll be more willing to pass up spontaneous temptations, knowing you'll otherwise have to cut back elsewhere. Also remember to track your spending during the trip to avoid going over your intended budget.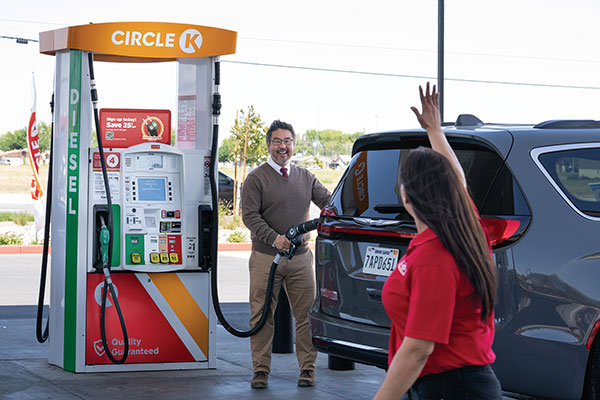 Take Advantage of Rewards Programs
Many retailers offer special perks, like discounts or exclusive coupons, to loyal customers to help encourage repeat visits. Taking advantage of these rewards programs, which are typically free to join, can be a simple way to save money on purchases you'll likely make anyhow. For example, the global convenience store chain Circle K launched the free Inner Circle membership program, which rewards customers who download the app and sign up with instant access to save 25 cents per gallon on their first fill ups and five free beverages. In addition, members can save up to 5 cents per gallon on fuel and receive offers like buy five, get one free on select snacks, fresh food and beverages. There are also upgrades for customers who reach certain spending thresholds and opportunities to stack membership offers with Easy Pay to save an additional 10 cents per gallon on every fill-up, allowing the savings to build up while on the road.
Consider Alternative Lodging
While hotels are a tried-and-true option for vacation lodging, there are other options to consider, especially when planning an extended stay or traveling with a large group, that can help you save money. Booking a rental home or apartment unit may be a more cost-effective option despite the requirement of a deposit, which is typically returned at check out, assuming there is no damage and all cleaning requirements are completed. If the stay is shorter, you could also consider boarding at a hostel.
Limit Dining Out
While one of the biggest perks of traveling is often trying cuisines and restaurants you're unable to at home, opting to make some meals yourself can provide considerable savings. If exploring the culinary scene for dinner is a must, consider a simple lunch like making sandwiches in your rental kitchen or hotel room and packing grab-and-go snacks to hold you over while exploring. If your hotel offers a complimentary breakfast, this is another easy way to save on food costs since it's already rolled into your lodging.
Look for Free Activities
Even in more expensive destinations, there are typically no-to-low-cost activities. Some museums and zoos are free of charge to enter, but concessions and amenities can cost extra. Many major cities also offer free walking tours. Checking with your concierge if staying in a hotel may also lead to free or reduced cost passes to attractions.
Visit CircleK.com or download the app for more cost-saving ideas and to find the nearest participating location.
Photo courtesy of Getty Images (mother in car)
Source: