(Family Features) One-pot meals are all the rage, but the original dinner you could make in a single dish still stands the test of time. Whether your tastes tend toward hearty or light, soup is the perfect answer for a simple, fuss-free meal at home or the office.
As if you needed more motivation, these five reasons explain why you should grab your favorite spoon and settle in to enjoy a big bowl of piping hot soup.
Weight management. Most experts agree portion control is one of the most important aspects of weight management. With the right ingredients, a single bowl of soup can provide plenty of satiety to carry you comfortably to your next meal. No matter what diet plan you follow, you're sure to find an array of soups that fit your needs.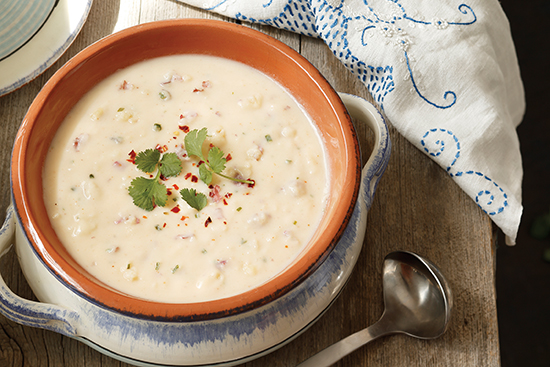 Quick and easy preparation. A pot that simmers all day is a surprisingly easy way to put dinner on the table. Simply throw all your ingredients in a giant pot or a slow cooker and walk away. Or for a meal in mere minutes, you can rely on a store-bought option that tastes homemade. Delicious Idahoan Premium Steakhouse Potato Soups bring together real Idaho red potatoes with flavorful spices and rich cheeses to provide a creamy taste in every spoonful that is ready in just 5 minutes. The steakhouse-style soups are available in four flavor varieties: Creamy Potato, Loaded Potato, Cheddar Broccoli and Three Cheese Chipotle.

Affordability. Even if your wallet is stretched thin, it's easy to scrape together a handful of inexpensive ingredients to create a soup from scratch. You can even use leftovers or odds and ends from the pantry or freezer. Another way to make those grocery dollars stretch or to curb your work week lunchtime spending is to visit the soup aisle for a wide variety of meals you can pick up for a modest price.
Boost veggie intake. Most soups provide an ample serving of veggies in every bowl, making it easy to reap the health benefits, including a vast number of vitamins and minerals. There's also a practical reason that soup is in high demand when you're feeling under the weather. Many vegetables contain anti-inflammatory properties, and a steamy bowl of broth-rich soup can help ease clogged sinuses. For those who typically avoid veggies, remember that it's easy to hide them in broth or among other ingredients.
Versatility. Soup is the ultimate adapter. You can find soups representing nearly every flavor imaginable and ethnic influences from around the world. When you purchase ready-made soups, you can switch gears after just one bowl to satisfy virtually any flavor your taste buds crave.
Explore more soup-er mealtime solutions at Idahoan.com.
Photo courtesy of Getty Images (family in kitchen)
Source: