(Family Features) As the second leading cause of death worldwide, according to World Health Organization, stroke will affect 1 in 4 adults over the age of 25 globally. A condition where the blood supply to the brain is disrupted, a stroke results in oxygen starvation, brain damage and loss of function.
There are two main types of strokes: ischemic, which occur when a blood vessel carrying oxygen and nutrients to the brain is blocked by a clot, and hemorrhagic, which are less common but can be more serious, occur when a weakened blood vessel ruptures and begins leaking blood. According to the Center for Disease Control and Prevention (CDC), 87% of strokes are ischemic.
Because a stroke can cause lasting disability and pain for those impacted and their loved ones, it's important to learn how to identify the signs and symptoms of stroke, how to reduce risk factors and where to go for timely treatment. Consider this information from the experts at Cerenovus, who are committed to changing the trajectory of stroke and offering a broad portfolio of devices used in the endovascular treatment of stroke, to learn more.
Know the Signs and Symptoms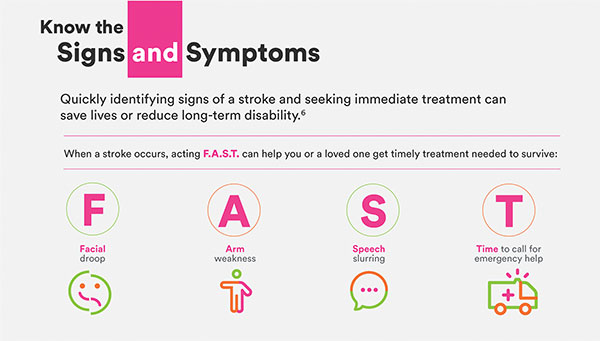 If you suspect yourself or a loved one is experiencing a stroke, acting F.A.S.T. is critical in getting timely treatment necessary to survive. If you recognize the signs and symptoms of a stroke – face weakness, arm weakness and speech slurring – it's time to call for help. Reducing the amount of time between the onset of stroke and treatment can make a difference in how well the brain, arms, legs, speech and thinking are able to recover. The longer a stroke goes untreated, the greater the chances are of experiencing long-term disability, brain damage or death.
Reduce Stroke Risks
While strokes can be devastating and deadly, up to 90% are preventable, according to the World Stroke Organization, and many risk factors can be controlled before they cause a stroke. By managing conditions like high blood pressure, diabetes, obesity and atrial fibrillation (AFib); ceasing smoking; eating a healthy diet; getting regular exercise; and taking prescribed medications, you can decrease your risk.
Address Health Inequities
Communities of color are disproportionately affected by stroke risk factors and have poorer experiences when it comes to timeliness and access to stroke care, referral patterns, treatment utilization and outcomes, according to research published in the "Journal of Stroke and Cerebrovascular Diseases. In fact, the risk of having a first stroke is nearly twice as high for Black people, according to the CDC, and members of the Black community have the highest rate of death due to stroke. Additionally, according to the American Stroke Association, non-white stroke patients are less likely to arrive by EMS and experience longer emergency department waiting times compared to white patients.
Know Where to Go
For every minute a stroke occurs, 1.9 million brain cells are lost, and the longer a stroke goes untreated, the greater the chances are of experiencing long-term disability and brain damage. That's why it's critical to seek immediate treatment at the nearest comprehensive (or Level 1) stroke center. These facilities offer a full spectrum of neuroendovascular care, which can help patients taken directly there survive without long-term disabilities.
Understand Treatment Options
Seeking immediate treatment for stroke means you have more treatment options available, such as being eligible to receive tissue plasminogen activator or mechanical thrombectomy (MT) for ischemic stroke. MT, a minimally invasive blood clot retrieval procedure, helps improve the chances you'll survive an ischemic stroke and make a full recovery. Treatment options for hemorrhagic stroke include surgery to remove, repair or clip a ruptured aneurysm.
If you or a loved one experience signs of stroke, seek immediate emergency medical services. To learn more about stroke risks and treatment options, visit jnjmedtech.com.
Content courtesy of Cerenovus
EOS #258724-230920 | © CERENOVUS 2023
Photo courtesy of Getty Images
Source: Cerenovus