Start with upgrades to your home's design features
(Family Features) The spring season is typically a time when people are motivated to start fresh. With reorganization often top of mind, it is also a time when many homeowners look for ways to update their homes with improvements that can increase aesthetics and functionality.
From small changes to large-scale projects, these home design ideas from the experts at Dutch Boy paints are all about adding fresh appeal to your living space.
Reorganize and reimagine
Sometimes a space doesn't require much investment at all, you just need a change of perspective. Reorganizing a room for better flow and eliminating unnecessary clutter can give it a brand-new, updated feel. Consider how adjusting the furniture placement might improve the space, whether it opens up a better walkway or lets in more light. Upgrades are often about adding, but don't be afraid to take away unnecessary furniture that crowds the space. Also give attention to organization and stash away items that make the room appear untidy or uninviting.
Artwork overhaul
Furniture and architectural elements may factor heavily into a room's ambiance, but it's often the decorative details that tell a space's true story. If you like the major features of a room but have grown bored with its overall look and feel, swapping out the artwork may be just the solution. One notable benefit of this approach is that artwork is available at virtually every price point, making it easy to stay within your budget. From DIY pieces to gallery-quality hangings, there are nearly countless ways to achieve the look you desire.
Color correction and odor protection
Changing the wall color is often a style-driven decision. However, when it comes to eliminating stains and odors, paint can also be a functional solution that saves on heavy-duty renovating. For example, Dutch Boy Forever Paint and Primer, available exclusively at Menards, covers old stains, prevents new ones and helps knock back the odors that are particularly pungent during the winter months when everyone is cooped up indoors. The paint features Arm & Hammer Odor Eliminating technology, making it ideal for high-traffic areas and homeowners with pets and kids. Sold in easy-to-use plastic twist-and-pour containers, it offers an easy-to-use alternative to traditional metal cans. Learn more at DutchBoy.com.
Abstract accents
Visually interesting pieces can help breathe new life into a ho-hum space, and making this kind of improvement can be as quick and low-budget as a trip to the garage or attic. Repurposing items in unexpected ways can bring vibrant character to a room. For example, a beloved but discarded old drum makes for a whimsical occasional table filled with memories and nostalgia. Ladders make for attractive bookshelves, or you can use brackets to mount old hardcover books on the wall as quirky, floating shelving. You can even take an obscure item like a bike wheel and convert it into a wall clock.
Open spaces
Although it should never be done without careful consideration of the impact on your home's value, knocking out a wall can substantially improve your home's function and appeal. For example, if you have a home with separate dining and kitchen areas, removing the separating wall can create a welcoming space the whole family can enjoy. Opening up a high-use area like the kitchen is a popular renovation choice for all types of homeowners, from those who need to supervise homework while making dinner to others who regularly entertain at home. If knocking out an entire wall isn't an option, try simply making your home "feel" like it flows better from room to room with complementary color palettes that help visually open the space.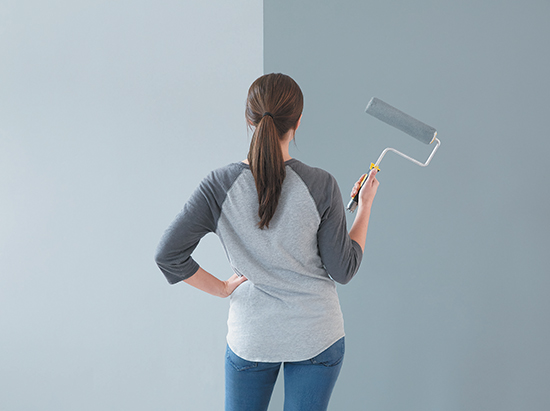 Tone-on-Tone Stenciling
Stencils can be a simply way to create a visually rich pattern on an accent wall. Try using a downloadable stencil and two soft shades or two sheens of the same color for a subtle statement.
Supplies:
Clean, damp cloth
Drop cloth
Painter's tape
Dutch Boy paint (3 colors)
Paint tray
Liners
Angled paintbrush
Woven roller covers
Roller frame
Tape measure
Pencil Level
Stencil (visit DutchBoy.com to download and print)
Mini foam roller cover and roller frame
Wipe wall with clean, damp cloth to prepare painting surface.
Lay down drop cloth to protect floors; use painter's tape to cover trim, molding, ceiling and any adjacent walls. Prepare paint by adding base color to lined paint tray.
Using angled brush, apply base color just inside taped areas then paint remaining area with woven roller; remove painter's tape while paint is still damp; allow paint to dry 24 hours.
Use tape measure to find center of wall and lightly mark with pencil; center stencil over pencil mark; use level to ensure stencil is straight; secure stencil in place with painter's tape.
Using clean liner, add second color to paint tray. Using mini foam roller, apply second color over stencil; carefully lift stencil after paint application; wipe down stencil after each use.
Line up stencil with previously painted design; repeat until adjacent walls, ceiling and baseboard have been reached.
Allow paint to dry, following suggested drying time on can label.
Photo courtesy of Getty Images (Main Image Livingroom)
Source: