(Family Features) One essential step in planning a home renovation is choosing the right materials. Natural and textured walls continue to be trendy choices, and many building pros and homeowners are gravitating toward stone siding to add comfort, character and beauty.
Panelized stone siding offers the look and feel of natural stone and manufactured stone veneer, but in a panelized format that can be installed with screws. With a wide range of exterior and interior applications, panelized stone siding can complement almost any home style. On the exterior, in particular, stone siding can boost curb appeal and provide a multi-textured facade with a solid return on investment.
Although stone veneer, or manufactured stone, is commonly used on home exteriors, indoor applications are gaining popularity as homeowners are increasingly interested in bringing natural elements inside.
Given its design flexibility, ease of installation and affordability, the experts at Westlake Royal Building Products recommend manufactured stone siding as an ideal option for interior and exterior applications like these:
Siding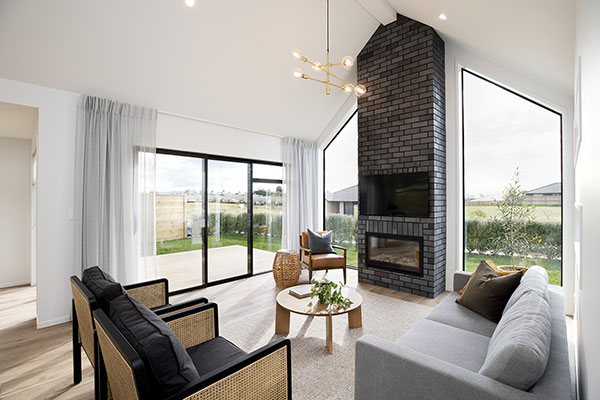 If you love the look of natural stone but want a more affordable option, panelized stone siding offers an authentic look and simple application with a cutting and installation process similar to traditional siding panels. Some homeowners choose to mix stone with other exterior materials to create a one-of-a-kind appearance. For example, adding manufactured stone siding alongside existing brick or vinyl siding can infuse visual texture, dimension and impact. Complementing colors can provide a more balanced, traditional look while contrasting colors present as modern and bold.
Entryways
Wrapping columns with panelized stone can make your home's entrance a focal point, adding curb appeal and creating a welcoming effect.
Accent Walls
Panelized stone siding can also be used to elongate the appearance of a wall while bringing texture and contrast into the home. Warmer tones can make the space more inviting and cozier while cooler hues can bring a modern, industrial feel.
Fireplaces
Manufactured stone siding makes it easy to give a fireplace a facelift or make it a focal point, changing the look and feel of a room. Available in a variety of colors, textures and shapes, it can elevate your living room's style and create a more inviting area.
An affordable option like Versetta Stone panelized stone siding from Westlake Royal Building Products provides the beauty of hand-laid stone with virtually undetectable joints and seams for world-class design featuring timeless colors and textures, natural shapes and hand-crafted details. It's a practical choice for experienced DIYers since there's no need for mortar. What's more, the tongue-and-groove interlocking system can be installed in any weather.
Learn how panelized stone siding can bring your vision to life at VersettaStone.com.
Source:
Westlake Royal Building Products